A Great Recipe for Any Event!
The exhibition and events industry will often create opportunities that involve a variety of suppliers who are experts in their own field to work together to create the perfect solution for any client's brief.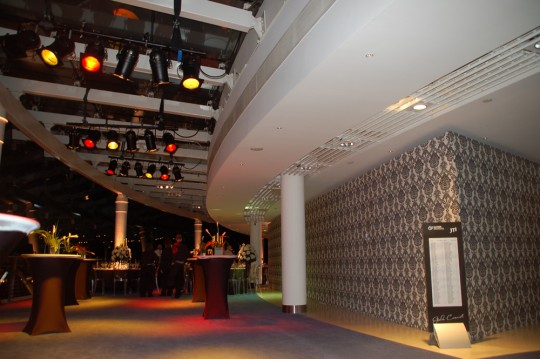 We were recently asked to input our skills to help transform the Level 2 Bar area at the Waterfront Hall, Belfast. The client had asked their supplier Moonlighting, a specialist in their field to create a room setting suitable for their event. Moonlighting then called on the expertise of the very creative SBD Events team  to dress the room and compliment the lighting. Designco were then brought in by SBD to build a bespoke wall and wallpaper it to the brief/specification we were given, to complete the room transformation and enhance the existing venue. This is just one example of three different disciplines within the industry working together very successfully. Designco regularly work with a variety of suppliers who are experts in their discipline to achieve quality exhibition, event and display solutions.